Tips for Climbing Mount Kilimanjaro: A Reliable Guide 2023/2024
The starting point for the once-in-a-lifetime expedition is Oasi's Ultimate Kilimanjaro Guide.
Climbing Kilimanjaro is a once-in-a-lifetime experience,. It's easy to understand why this expedition is at the top of bucket lists all over the world. At a stunning 5,895 meters (19,341″), Mount Kilimanjaro is the highest mountain in Africa and the tallest free-standing mountain in the world. Even though many of the mountain's routes are not recommended for beginners, you do not necessarily need to be an expert climber to reach the summit if you have a knowledgeable guide by your side.
8 Days Mount Kilimanjaro climbing Via Northern circuit
Arusha - Northern circuit - Mount Kilimanjaro
For tourists who enjoy a challenge, Kilimanjaro National Park is a well-liked vacation spot. We cover all you need to know about your Mount Kilimanjaro journey here, from our top-rated Kilimanjaro itineraries to how to actually get ready for the trip of a lifetime.
In summary, early June through late September and late December through late February are the ideal times to climb Mount Kilimanjaro. The best views and a comfortable ascent are almost always guaranteed during these periods because it rarely rains and is typically sunny.
Mount Kilimanjaro itineraries
Choosing the ideal path for you is the next step after deciding to climb Mount Kilimanjaro. There are a total of seven main ascent routes up Mount Kilimanjaro. The first route starts on the mountain's northern side, while the other six start on its southern side. For all of the many Kilimanjaro Routes, Wildlife Oasis Tours offers climbing Kilimanjaro itineraries. The primary query is: Which path should you take?
Overview of the Kilimanjaro climbing routes
Beginners should take the –  Marangu or Machame Routes.
Lemosho or Machame – Routes offer breathtaking landscapes
For budget-conscious beginners, try the – Marangu Route  For seasoned hikers, try the Machame or Lemosho Routes
Professionals – Umbwe Route
Machame Route – is the most popular Mount Kilimanjaro route.
Northern circuit, – the longest path up Mount Kilimanjaro
When it's wet, – take the Rongai Route
Which route has the highest success rate – the 8-day Lemosho Route or the 9-day Northern Circuit?
Kilimanjaro routes: benefits and drawbacks
There are seven alternative ways to climb Mount Kilimanjaro, each with advantages and disadvantages to match the ability of the hiker. They all vary in terms of duration, difficulty, landscape, traffic, accommodations, and a wide range of other variables.
Your once-in-a-lifetime vacation to Africa will be hassle-free thanks to the Kanje grand tours team's expertise in determining the optimum path. We take the time to consider your group's unique wants and requirements while organizing your Kilimanjaro climb because we have organized hundreds of successful summits for clients from all over the world. The Machame Route, Marangu Route, and Lemosho Route are the most well-liked routes among our customers.
The Machame Route on Mount Kilimanjaro, also called the "Whiskey Route," is one of the most well-liked climbing routes in Tanzania. Even more, this path has a remarkable high success rate. The course ascends gradually, giving your body more time to become used to the higher altitude. The mountain is encircled by a trail that provides breathtaking views and a diversity of scenery.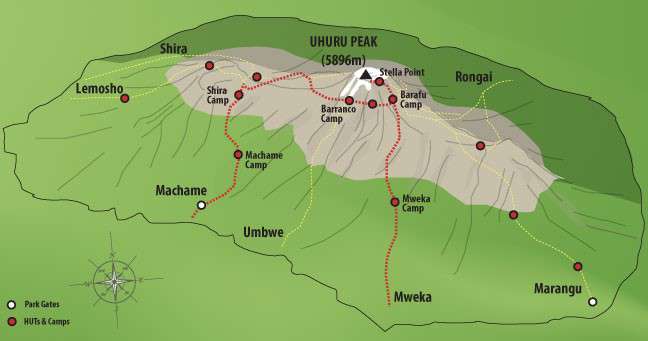 You will travel along this path to reach the breathtaking Shira Plateau by strolling through the lush forests. The last ascent from Stella Point to the crater rim is perhaps the most difficult and calls for at least a basic degree of fitness.
You decide how long the Machame Route takes! It can be completed in 6 or 7 days, however from our experience, a 7-day Kilimanjaro trek greatly increases your chances of summiting Africa's tallest mountain.
PRO: Because of its shorter path and convenient access, the Machame Route is less expensive than most others.
CON: Traffic on this route can be heavy, especially during the summer.
One of the simplest paths on the mountain is said to be this one, known as the "Coca-Cola" route. Even though it is unquestionably the shortest route up the mountain, it is not always the simplest. Your body doesn't have as much time to acclimate due to the shorter path, which increases the likelihood of weariness and, eventually, lowers your odds of reaching the peak.
Because of the hut accommodations, some climbers prefer this route to the bulk of other mountain excursions, which typically include camping in tents. Unfortunately, less privacy results from this. (Plus, nothing beats camping beneath an African sky!) The Marangu Route is one of the least expensive ways to climb Mount Kilimanjaro and is the greatest choice for people on a tight budget.
PRO: The Marangu Route is one of the least expensive and fastest ways to climb Mount Kilimanjaro. For those who prefer not to camp, this route also provides hut accommodations in shared rooms.
CON: During the busiest times of the year, this route can get very crowded. Less of the breathtaking view is visible because you must follow the same track that you did during your ascent.
Beautiful and distinctive, the Lemosho Route is well-known for its spectacular vistas. It begins on the western slope of Mount Kilimanjaro, in contrast to other Mount Kilimanjaro climbing routes. Because of this, the Leomosho Route offers a considerably more private hiking experience and is less frequented by climbers.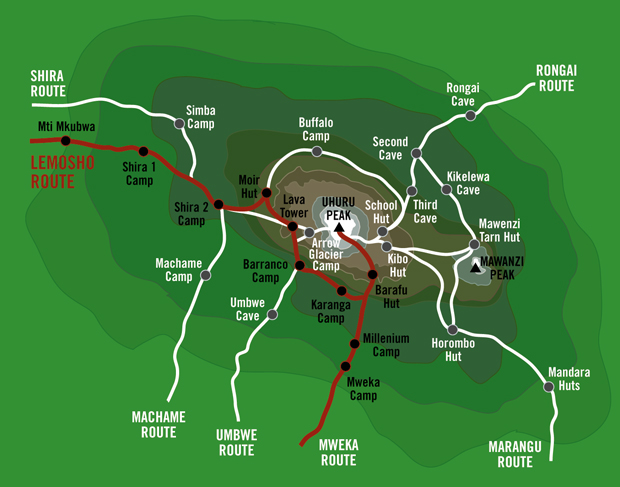 Even better, the Lemosho trail is unspoilt in its entirety, making for an incredible journey up to the renowned Shira Plateau. The Lemosho Route eventually merges with the Machame Route at Lava Tower after a few days. This journey may be completed in 7 or 8 days, but it does call for some basic fitness.
CONS: The Lemosho way is obviously more expensive because it involves a longer hike and additional transportation to the mountain's other side.
PROS: It's absolutely worth the money! The Lemosho route offers climbers plenty of time to fully acclimatize, beautiful scenery, and a high success rate for reaching the summit. One of the most stunning and comprehensive climbs up Kilimanjaro is this one.
How to be ready for the Kilimanjaro climb
Despite the fact that Mount Kilimanjaro has a path for every skill level, it's crucial to be able to handle 6-7 hours of walking every single day. It can be difficult, so being prepared is always a great idea. You will walk for 6-7 hours each day while climbing on average. Go on long hikes every few weeks in the months prior to your vacation to gradually develop the endurance needed to last a full weekend hike.
Yoga and breathing exercises are some forms of physical preparation that might aid in getting ready for your walk. Your muscles become stronger and less likely to fail you when you need them most when you stretch out your body and head!
When is the best time to climb Kilimanjaro
It is possible to climb Mount Kilimanjaro all year long. Based on your unique needs, Tanzania Specialist offers professional guidance on the ideal time to schedule your trip to climb Mount Kilimanjaro.
The two primary climbing seasons are from June to October and the dry months of December to March. December through March are the hottest months. The sky are clearer and there is less danger of snow on the trail during these months. The greatest month is February because it has a high temperature and little likelihood of rain. The mountain gets substantially colder from June to October, and the trails get more traffic.
The price to climb Kilimanjaro varies depending on the route you take. From a shoestring to a tailored luxury budget, we work with our clients to build unique Kilimanjaro itineraries. In addition to tour operator fees, there are additional costs to take into account:
Purchasing the appropriate gear, such as hiking boots, waterproof day-packs, breathable clothing, and trekking poles.

Kilimanjaro climbing travel insurance. Additionally, you have the option of selecting a flying doctor insurance.

Giving tips to porters and guides is appropriate because they frequently work extremely hard for very little pay. Tipping is customary and supports the neighborhood on Kilimanjaro.